From November 1999 to about March 2001, I will be serving a mission for the Church of Jesus Christ of Latter Day Saints.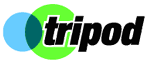 This is the Tripod logo.
The One-minute Page builder makes Web page publishing fast and easy. I can add my own picture and text, plus news, weather, my daily horoscope, and my favorite links!
[an error occurred while processing this directive]
[an error occurred while processing this directive]
[an error occurred while processing this directive]